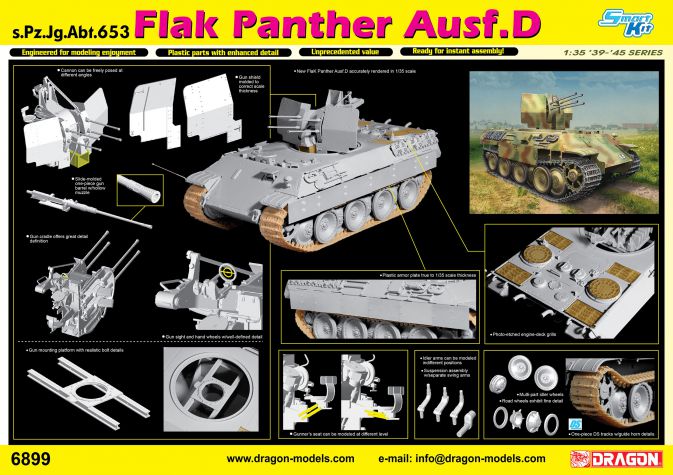 Dragon - 6899 - Flak Panther Ausf.D s.Pz.Jg.Abt.653 - 1:35
---
- DESCRIPTION:
Flak Panther Ausf.D s.Pz.Jg.Abt.653
The Panther medium tank was the third-most widely produced German AFV of WWII, and different variants evolved such as a recovery vehicle and tank destroyer. Field conversions also occurred, and one of these was a rare transformation of a Panther into an antiaircraft vehicle. It was a one-off field conversion, and the resulting AFV was employed by the headquarters company of the 653rd Heavy Panzerjager Battalion (Schwere Panzerjager-Abteilung 653, or s.Pz.Jg.Abt.653) during the titanic Battle of Kursk.
This kit is a perfect combination of Dragon's existing Panther Ausf.D medium tank and four-barreled 2cm Flakvierling 38 kits. s.Pz.Jg.Abt.653 was an interesting unit and it featured some interesting vehicle conv
ersions, this one included. As for the kit, there are photo-etched parts included in the box, as are all plastic parts needed to create this unusual but good-looking German air defense vehicle. At long last, modelers are now able to get their hands on such a rare converted Panther.
- CODE: C&M
---
Share this Product
---
More from this collection