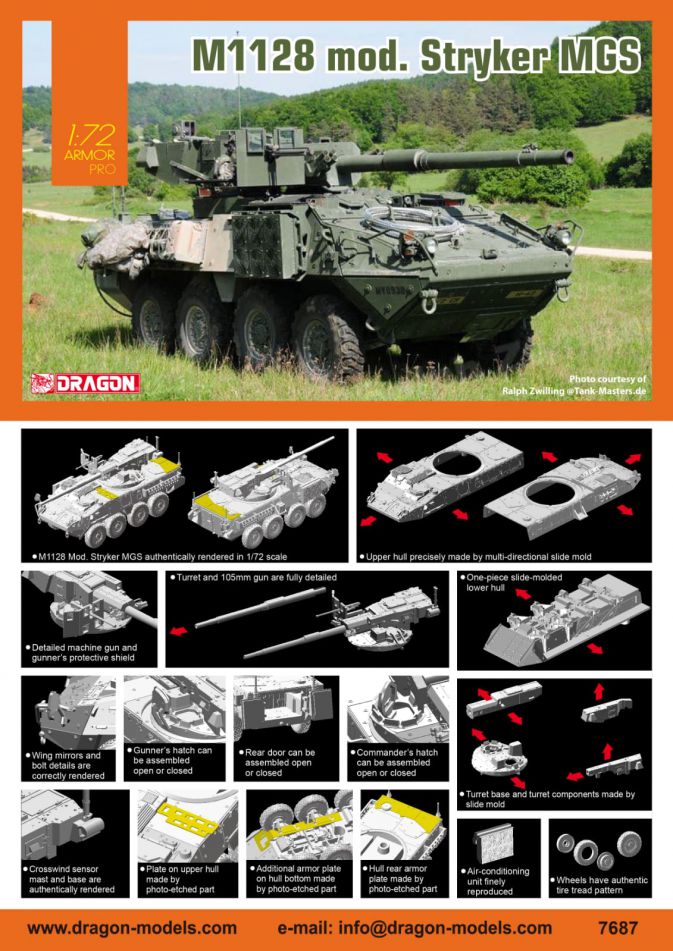 Dragon - 7687 - M1128 Mod.Stryker MGS - 1:72
---
- DESCRIPTION:
M1128 Mod.Stryker MGS Dragon's Armor Pro series has launched a trio of Stryker 8x8 plastic kits in 1/72 scale, and one of those members represents a US Army M1128 Mod. Stryker Mobile Gun System (MGS). The MGS is the most potent member of the Stryker family in terms of firepower, armed as it is with a 105mm M68A1E4 tank gun mounted in a low-profile turret. The gun operates with an autoloader, but it's designed primarily for infantry support missions rather than true tank-versus-tank combat. Modernized MGS vehicles had an air-conditioning unit added, as well as extra armor panels. A typical Stryker brigade boasts about ten Mobile Gun Systems, and the US Army procured 142 vehicles in total.
Most notable on this stunning kit of the M1128 Mod. Stry
ker MGS is the accurately shaped turret containing the 105mm main gun, with slide molds widely used here. All components on the Stryker are sharply rendered. Multi-directional slide molds permit major assemblies such as the upper hull or lower hull to be of one piece. There are photo-etched parts too, such as the belly armor and armor panels on the rear of the hull. This M1128 Mobile Gun System of a US Army Stryker brigade is ready to unleash its firepower!
- CODE: C&M
---
Share this Product
---
More from this collection