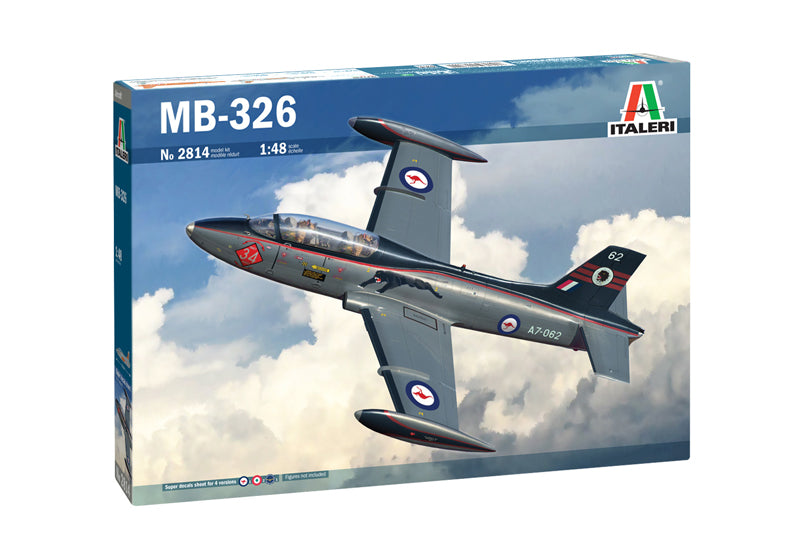 Italeri - 2814 - Aermacchi MB-326 - 1:48
---
Aermacchi MB-326 SUPER DECALS SHEET FOR 4 VERSIONS - COLORS INSTRUCTIONS SHEET

FIGURES NOT INCLUDED

The Macchi MB-326 was developed during the 1950s to equip the training "Stormi" of the Italian Air Force. The initial units of the new Macchi two-seat low-wing trainer were delivered in 1961, and immediately proved to be a technically excellent aircraft with good flight and operational characteristics. Easily recognizable by the two wing mounted air intakes alongside the fuselage, it was fitted with a British made Bristol Siddeley Viper jet engine. The MB-326 was supplied to deliver the advanced training program of the Italian Air Force, fulfilling this important role for several years before being replaced by the more modern MB-339. It also achieved considerable worldwide commercial success, being sold in more than 10 countries. It indeed became one of the most popular aircraft produced by the Italian aeronautical industry. The MB-326 could also be converted to have two 12.7 mm machine guns mounted, with an offensive capability load of underwing rockets and bombs.
CODE: C&M X2

---
Share this Product
---
More from this collection